Nine Ways to Use Wallpaper to Transform Your Children's Bedroom
DECORATING TIPS
Whether they have toddlers or teenagers (or perhaps even both), decorating your children's bedroom is a common practice for most parents. Wallpaper is a great way to create a personalized space for your child and is a useful decorative tool for spaces of any size. Choosing a wallpaper for your child's bedroom can sometimes be a daunting task given the sheer number of options available. But with a little research–and perhaps even some input from your child–it can be a great experience for the whole family. Here are nine creative ways to use wallpaper to transform your children's bedroom:
1. Coordinate with the rest of your home.
We all want our children to have their own safe spaces, and for most kids, that space is their bedroom. But at the same time, your child's bedroom is part of your overall home. Therefore, you should consider your overall design style when choosing wallpaper for a child's bedroom. Otherwise, you are likely to find yourself wishing you had made a different choice. Fortunately, there are a number of Children's Wallpaper Selections to fit any home style.
2. Consider limiting your space.
As you search for wallpaper for your child's bedroom, you may assume that you have to hang paper on all four walls; this is not necessarily the case. If you limit your space by only wallpapering one or two walls, you can choose a "busier" or more eye-catching pattern without overpowering the room. This Harlequin Crayon paper, for example, is very bright and beautiful, and would make a wonderful choice if you are looking for wallpaper suitable for a limited space which matches well with decor of almost any color.
3. Don't forget the ceiling!
Yes, you can use wallpaper on a ceiling. In fact, as discussed above, wallpapering a ceiling is one of the ways in which many parents can limit their decorating space. Again, wallpapering only a ceiling gives you a way to use a "loud" pattern while still achieving a subtle effect. Or you can use an alternating pattern on the ceiling which is different from the wallpaper used in the rest of the room.
4. Think outside of the box.
If you've been envisioning a sweet wallpaper pattern for your child, you will have no problem finding plenty of options to choose from. However, especially if your child is getting older, you should consider trying a decorative style that you may not have thought about before. Try something new, such as Grasscloth or Natural Wallcovering to give your child's room a unique look. Or take a look through more mature styles, such as this Chevron Stripe Shimmery Taupe, which would be perfect for a pre-teen or more mature young lady. In other words, not all children's wallpaper has to include baseball or bunny themes.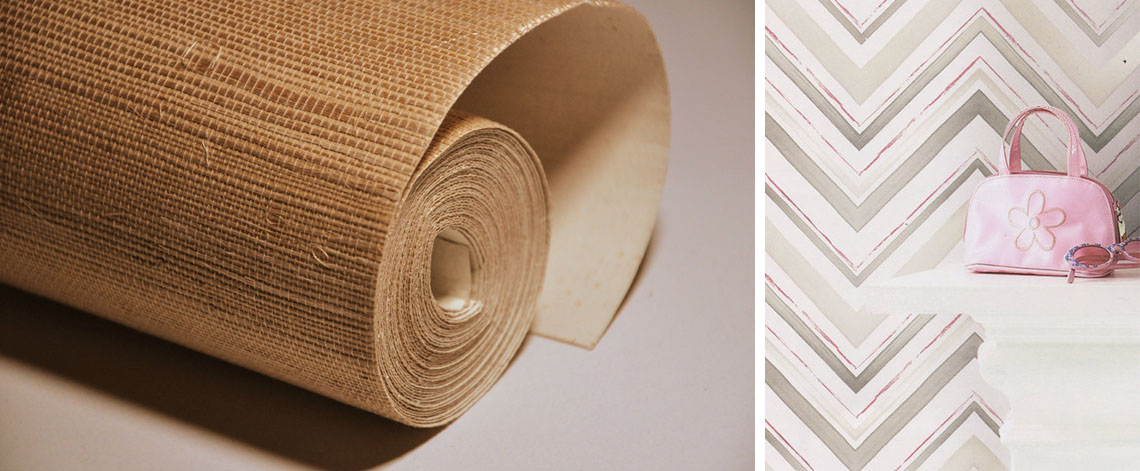 5. Coordinate wallpaper with paint.
Combining wallpaper with paint is a great way to get the best of both worlds when decorating your child's bedroom. Choose a paint which coordinates with your chosen wallpaper style for maximum effect. If you choose to use both wallpaper and paint, you should apply your paint first, then add the wallpaper afterwards. This option is a great choice if you have pictures or other wall-hangings which may clash with certain wallpaper styles.
6. Have your children help.
This suggestion will, of course, be more difficult for younger children (and impossible when decorating a nursery). But generally speaking, if you can incorporate your child's preferences when decorating his or her room, you are more likely to create something he or she will love. Even if your child is younger, you can take something that he or she likes (such as nature, puppies, etc.) and find a wallpaper which features those items. This Perky Pup wallpaper, for example, is a sweet pattern suitable for a number of ages and adaptable to most home decor styles.
Also, as a general suggestion, you should not try to force your child to like something that she does not. If you want your child to contribute to the process but do not want to give her free rein to choose whatever she likes, consider choosing 4-5 styles that you like and allowing her to choose the one she likes the most. You may be pleasantly surprised at your child's choices, and giving her a chance to contribute to the process shows that you respect her space and her opinions.
7. Consider gender-neutral styles.
This idea is more of a personal preference than a design "rule," per se, but it does give you a way to consider taking a new approach to your children's bedroom. If you have had your children in pink- or blue-themed rooms due to gender differences, you might want to consider a gender-neutral style. If nothing else, this is a great way to encourage your child to come up with his or her own preferences. If your son decides he likes sports, or your daughter decides she likes kittens (or the other way around), then a gender-neutral space will make it easier to accommodate these preferences via future decor choices. Take a look at this Topiary Friends green-themed wallpaper for some design inspiration.
8. Think from a child's perspective.
When you were a child, you likely drew inspiration from a number of places. Children create stories from books, friends from stuffed animals, and jungle gyms from furniture (unfortunately, for that last one). So if you want to inspire your child, consider a wallpaper style which will encourage their imagination. For example, this Scarecrow's Ranch wallpaper could inspire your child to come up with stories for each of the characters, and will become a pattern that he or she will associate with his room for years to come.
9. Be practical.
As you decorate your child's bedroom, remember that no matter how great something looks online or in a magazine, those pictures usually do not reflect reality. You can make small adjustments which will be appreciated in the long run by keeping the everyday challenges of parenting in mind. For example, for younger children, you should consider getting washable wallpaper, as much as you might want to believe that you will not need it. Blossoming Picassos might not be an issue if your children are older, but for younger children, finding a way to draw on the walls seems to be a rite of passage. The good news is that there are a number of adorable wallpaper options which are also washable, such as this Twiggy Taupe and Pink Kids Wallpaper.
Decorating your child's bedroom can be an enjoyable, albeit stressful, project. Think about potential design styles which will suit both your home and your child, and limit yourself to washable styles, if needed. Think about how often you are willing to redecorate, and look for something gender-neutral or otherwise less specialized if you want your child to choose his own coordinating accessories or other wall decor. Fortunately, with all of the wallpaper styles available for children's bedrooms, the possibilities are nearly endless. Take your time making your choice, and you are sure to find a wallpaper which both you and your child will enjoy for years to come.
October 4th 2016